Micronutrients Manufacturers Registration
IMMA Membership Registration
IMMA Subscription for Micronutrients Manufacturers
1. INTRODUCTORY OFFER For New Members only (For the first 2 F.Y. only)
Yearly Subscription Charges – Rs 10,000/- 
( Plus one time entrance Fee –  Rs 25,000/- )
– Rs 35,000/- + GST(18%)
2. For existing members ( more than 2 years old ) 
Rs 25,000/-  + GST (18%)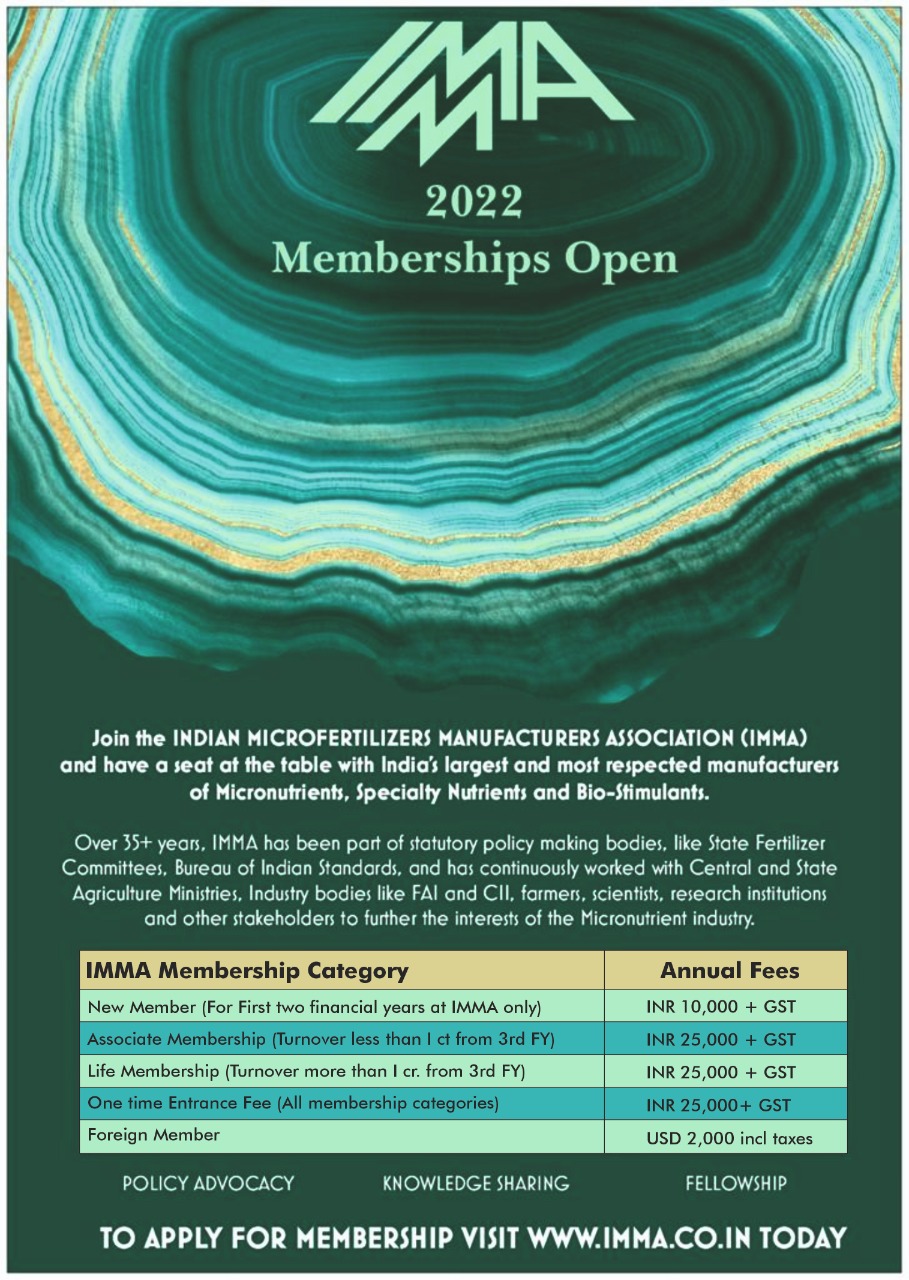 IMMA is a registered association under The Bombay Public Trust Act,1950  having administrative office at Pune, Maharashtra. IMMA works for the welfare of manufacturers engaged in manufacture of micro nutrients. IMMA has a PAN India presence and is carrying out this activity for more than 35 years .
Membership Registration and Fees
A member who wishes to join IMMA must be a Micro Nutrient Manufacturer.
The registration form must be accompanied by a production licence.
A QC-verified copy of the laboratory is also required.
Annual Membership Fees: Rs. 25000/-* per year (GST included).


Yearly Subscription Charges –      

Rs 10,000/- * + One time entrance + Fee Rs 25,000/- (Total – 35,000/-) + GST (18%) 

Rs 25,000/- * * + GST (18%) 



* For New Members only ( For the first 2 F.Y. only )

** For Existing Members 
IMMA organises the following activities for its members
* Bringing together micronutrient manufacturers.
* To protect the environment's common good
* Members' technical knowledge is improving.
* Arrange for agricultural seminars, exhibitions, and demonstrations and participate in them.
* Guidance on a variety of statutes, including the Fertilizer Control Order, the Packing Act, and the Essential Commodity Act.
Act, and so on
* To disseminate and assist in the dissemination of cutting-edge technologies.
IMMA charges members a yearly contribution of Rs25000/- in order to efficiently carry out these operations. For the Seminars and Summits hosted by IMMA, IMMA collects sponsorship fees from both members and non-members. For such workshops, IMMA collects registration fees from members.
Account Type: CURRENT A/C
Bank Account Number: 38228196651
Name / Branch & Address of Bank: STATE BANK OF INDIA, H. No. 289/6+7, K. D. Plaza, Ghorpade Peth, Near 7 Loves Chowk, Timber Market Road, Pune – 411 042
MICR code: 411002094
IFSC code: SBIN0015246
Branch code: 2026450058
Micronutrients Manufacturers Registration
IMMA Membership registration are now open for micronutrients manufacturers, micronutrients manufacturers in Hyderabad, micronutrients manufacturers in India, micronutrients manufacturers in Gujarat, micronutrients manufacturers in Tamilnadu, micronutrients manufacturers in Maharashtra, micronutrients manufacturers in Nashik,  micronutrients manufacturers in Punjab, micronutrients manufacturers in UP, manufacturer of micronutrients in Gujarat and all across India and World.